Course Info
Fun in the Sun Mud Run
The heart and mission of Fun in the Sun Mud Run is to bring a new event to our community and its guests giving us the ability to raise funds for Charity. 100% of the proceeds will "Help Charities overcome obstacles one at a time". We believe in and encourage by example the spirit of team work and as a team we envision everyone pitching in to do the dirty work. We have a dedicated committee, a swarm of volunteers, eager sponsors and the support of Bay County Inc. Together we will provide a family friendly environment with entertainment for spectators and a challenging muddy course for participants.
Please scroll down the page to register. We need your participation to make this event the best ever!
Teeter Totter
As participants approach the first obstacle you will be tasked to keep moving as you head over the teeter totters using balance and agility. It sounds easier than it is, so be prepared.
Triple D
The Down, Dark and Dirty cranks up the action. Get ready for multiple challenges as you climb up a tire wall only to use an alternate route down, heading into a dark belly crawl. You're promised to be muddy by the time you see the light on the other side.
Tundra
You will see this one coming. Plan on a muddy pit crawl under the Toyota Tundra. You won't be under there long enough to appreciate the beauty.
Tunnel Through
It a challenging task that will leave you some of you laughing and crying. One thing for sure, you'll be plenty dirty after pushing hard to tunnel through.
Culvert
Just when you thought you made it through the tough stuff, the challenge of the Culvert creeps up on you. Pick up speed and run hard while going down to build the momentum you will need to get up and get out.
Up and Over
You gotta get up to get over and you gotta get over to get through this one. It's a simple as it sounds yet something tell us it's harder than we think. Simply stated, just climb up and over to stay on course.
Mudslide
You have reached the highest point of the course and while the view is usually the best at the top, Mudslide will have your sights set on the muddy slide down below.
Spinning Barrel
It's as fun as a basket of marbles and as complicated as teaching your monkey to roller skate. Either way, you can't go over so you must go under the spinning barrels.
Tough Tire Track
Your Toyota rides best with the wheels balanced and aligned, and you will want to adopt the same logic to work your way through the tires while looking out for the swinging ones, too.
Backstroke
By now, you have conquered many challenging obstacles and are ready to kick back for a bit. With that in mind, you must work your way through this one on your back. Think army crawl but with a fun rollover.
Dumpster
With you covered in mud and scaring the kids, you will be fit for the Dumpster. Go ahead and jump right in for a cool rinse to refresh and refine your muddy self.
Concentration Causeway
The last challenge will challenge your concentration while bringing it to life, too. Be sure to keep your balance on the beam while dodging those oh so fun surprises.
Still want more muddy fun?
For your entertainment we have some competitive tug of war. This will be performed in scheduled brackets throughout the day. Pull up a seat on the bleachers and cheer for your favorite team. By the end of the day someone will take home the traveling trophy.
Event Location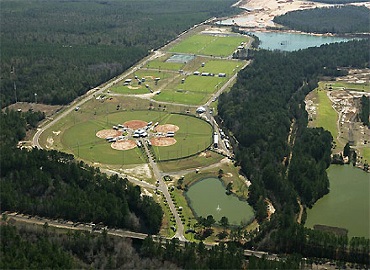 HG Harders Park
HG Harders Park is located in Northern Bay County, just off Hwy 231. The physical address is 7900 John Pitts Rd, Panama City, FL 32404. HG Harders Park offers 76-acres of playgrounds, cross country trail, concession stands, pavilions and restrooms. You can find directions with this interactive map.
Shoe Donation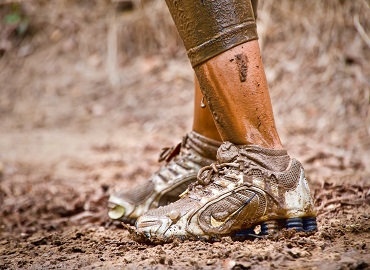 Hilltop Cleaners
Our 'soul' purpose is to help as many people as possible. Plan to bring a change of shoes and donate your muddy soles to a soul in need. Our partnership with Hilltop Cleaners will provide the opportunity for many people in need to receive completely restored tennis shoes as we have developed relationships to donate to Veterans, the homeless community and children's groups.
Have Questions?
We appreciate your consideration with this premier event to enrich our wonderful community while providing a uniquely fun time for your entire family. Please let us know how we can help you attend. You can learn more about our charity focus by viewing this information.
Lisa Kerns - (850) 276-0172
Talena Grawburg - (616) 540-4101

Register Now
Kids' Fun Run & Vendor Village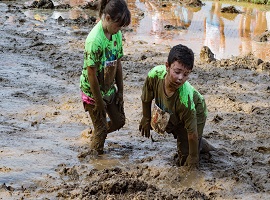 Kids' Fun Run
The Kids' Fun Run course will involve a muddy obstacle course with running and climbing that requires a lot of giggles and smiles. The mud will be aplenty and memories will be forever cherished. Bring the camera!
We have a few surprises to share on the day of the event, so mark your calendar now and come spend the day with us!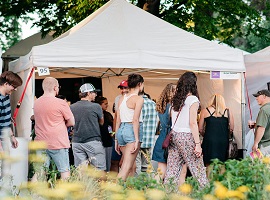 Vendor Village
The Vendor Village will be carefully created to present very specific companies geared towards the active lifestyle of those who enjoy events like Tough Mudder, Mud Runs, Obstacle Courses and other exciting activities!
If you feel you have what it takes to be a vendor, contact us so we can discuss your ideas... and ours, too. Thank you!
The After Party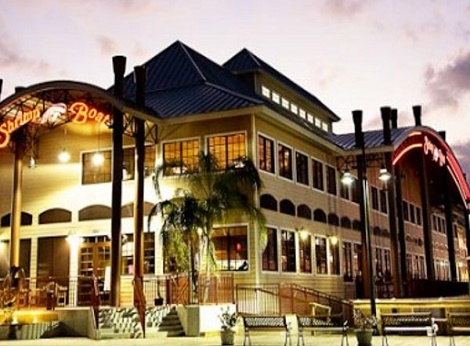 House of Bourbon, 1201 Beck Ave. PC, FL
The Fun in the Sun Mud Run after party will wrap up the event with live music, hors d'oeuvres and a cool, tasty beer on us for each runner. This will be the place to be to share in the muddy fun with your friends, family and fellow participants. We have some fun additions that we are not ready to reveal just yet, but we are certain you will want to be a part of this community celebration of a great event and awesome teamwork.
This will be held in histronic St. Andrews district at the House of Bourbon. There will be plenty of food & drinks to order with full menu service open all night long just for you.
Please call Lisa Kerns with Panama City Toyota at (850) 276-0172 or Talena Grawburg with Servpro at (616) 540-4101 for more information.
Register Now
Active.com
Do you already have your Active.com account set up? If so you can quickly and easily register for The Fun in the Sun Mud Run event.
Simply click the button below and sail onward. Once you do you will be ready to run with us on March 3, 2018. We appreciate your participation and so do our charities.
Register Now
RaceEntry.com
Maybe you're a Raceentry.com fanatic let so many others? If so you can jump right in the the Fun in the Sun Mud Run and conveniently register right now.
It just takes a click do please just do it. Afterwards you will feel the excitement and can begin your journey forward to March 3, 2018. It won't be the same without you.
Register Now